At a Glance
Treatment duration: 30 minutes to 1 hour (outpatient)
Anesthesia: None
Sport: After 1 to 2 days at the earliest (according to area treated and type of sport)
Socially acceptable activities: Normally immediately or the day after at the latest
Bandage: Normally not needed
Incapacity to work: Generally no restrictions
Check-ups: To be arranged on an individual basis
Your own blood can be used for local regeneration of your face and skin. This new procedure is especially gentle and the resulting look is very "natural".
Facial Regeneration with Your Own Blood
We initially extract a small amount of your blood. In simple terms, the blood platelets in the blood (thrombocytes) have a regenerative effect. By centrifuging your blood, we are able to obtain these valuable blood platelets for your facial treatment. Medical experts call this concentrated quantity of thrombocytes "platelet-rich plasma" (PRP).
What Is the Exact Procedure?
After the blood has been taken and centrifugation carried out, we disinfect your face and any other areas to be treated. If desired, or if needed, the area will be anesthetized locally with an anesthetic cream. After the short period required for the cream to take effect, PRP is introduced into the skin.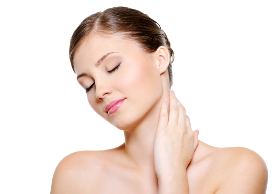 As a result, PRP activates your body's own stem cells and produces regenerative growth factors, which have a rejuvenating external effect on the face. We recommend repeating the treatment at intervals of 6 to 12 months.
Aftercare is simple: Sometimes small bruises, reddening and slight swelling will appear. You will be mobile immediately after treatment and, of course, able to work as normal. After facial treatment, you can usually apply make-up the day afterwards.
The combination with other treatments is possible. In individual cases, platelet-rich plasma is also suitable for enhancing the effect of stem cell treatment. PRP and bioidentical hormonal regeneration cures frequently show excellent skin rejuvenating results.